---
Wooden Boat Works is located in Greenport NY and operated by Donn Costanzo &
Bruce Wahl they both restore and build classic wooden boats.

Kid II a replica of a Gil Smith design is just one of their recent projects.

---
Gilbert Monroe Smith



Gill Smith's boats were the envy of their competitors;
the pride of their owners.
-- W.H. deFontaine Yachting, March 1966



In the custom of the day, many of his boats, work or pleasure, were catboats, a rig with one large gaff sail on a single mast stepped just inches behind the bow. Such a boat would fly downwind and beat safely up. Given the Bay's shoal depth - not more than six feet on average - he crafted his hulls to draw merely a foot or two of water with the centerboard up. His boats were broad and shallow, like a shell, with wide cockpits, into which entire families would pack themselves and a day's worth of beach hampers.


---
Kid II is a completely new-built, Gil Smith replica launched in April, 2009. The plans for this replica were lifted by laser scanning. A P-Class from the Long Island Yacht Racing Association, she is a
Gaff sloop. LOA 36' 9" LWL 25' Beam 9' 9" Draft 2' 2"

Theo Rye, naval architect, Nathaniel Wilson, sailmaker and rigger, and Wooden Boatworks' Donn Costanzo collaborated in the design for the new rig and sail plan.

---
Photo Credit Brigd Hunt and Donn Costanzo
Photo Credit Brigd Hunt and Donn Costanzo

---
Kid II sails the Great South Bay today as a beloved family boat.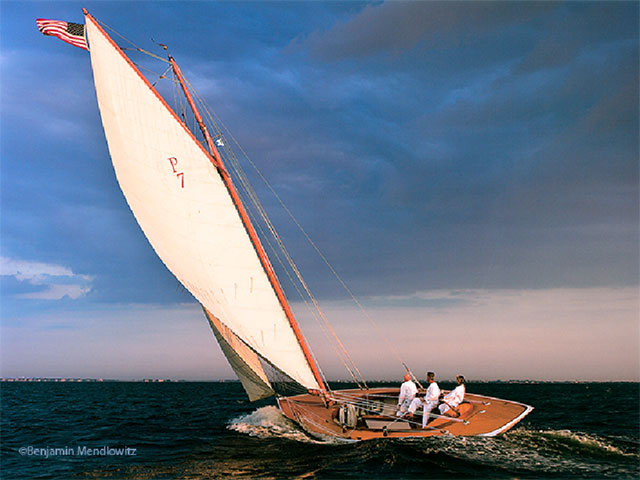 Photo copyright Benjamin Mendlowitz
---
How Donn Costanzo and Bruce Wahl Have Mastered the Art of Preserving the Classics"
by Pat Mundus features Wooden Boatworks in the March/April issue of
WooodenBoat magazine, available on newsstands now -- and online for subscribers only.
---
---
| | |
| --- | --- |
| share this page with friends.... | |