---
Dolphins are marine mammals closely related to whales and porpoises. There are almost forty species of dolphin in 17 genera. They vary in size from 4 ft and 90 lb (Maui's dolphin) up to 30 ft and 11 tons (Orca). They are found worldwide, mostly in the shallower seas of the continental shelves and are carnivores, eating mostly fish and squid. The family Delphinidae, the largest in the Cetacean order, evolved relatively recently, about ten million years ago during the Miocene period.

Though the terms 'dolphin' and 'porpoise' are used interchangeably, porpoises are not considered dolphins and have different physical features such as a shorter beak and spade-shaped teeth; they even differ in their behavior..Porpoises belong to the family Phocoenidae and share a common ancestry with the delphinidae.

Along with whales and porpoises, dolphins are descendants of terrestrial mammals, most likely of the Artiodactyl order. The ancestors of the modern-day dolphins entered the water roughly 50 million years ago, in the Eocene epoch.

A group of dolphins is called a "school" or a "pod". Male dolphins are called "bulls", females "cows" and young dolphins are called "calves"

---
Dolphins have a streamlined fusiform body, adapted for fast swimming. The tail fin, called the fluke, is used for propulsion while the pectoral fins, together with the entire tail section, provide directional control. The dorsal fin, in those species that have one, provides stability while swimming. Though varying by species, basic coloration patterns are shades of grey, usually with a lighter underside and often with lines and patches of different hue and contrast.

The head contains the melon, a round organ used for echolocation. In many species, elongated jaws form a distinct beak; species such as the bottlenose have a curved mouth which looks like a fixed smile. Some species have up to 250 teeth. Dolphins breathe through a blowhole on top of their head. The trachea is anterior to the brain. The dolphin brain is large and highly complex, and is different in structure from that of most land mammals.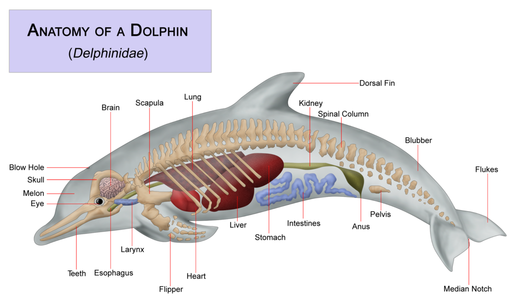 ---
Unlike most mammals, dolphins do not have hair, except for a few hairs around the tip of their rostrum (beak) which they lose shortly before or after birth. The only exception to this is the Boto river dolphin, which has persistent small hairs on the rostrum.

Dolphins' reproductive organs are located on the underside of the body. Males have two slits, one concealing the penis and one further behind for the anus. The female has one genital slit, housing the vagina and the anus. Two mammary slits are positioned on either side of the female's genital slit

Dolphins can tolerate and recover from extreme injuries such as shark bites although the exact methods used to achieve this are not known. The healing process is rapid and even very deep wounds do not cause dolphins to hemorrhage to death. Furthermore, even gaping wounds restore in such a way that the animal's body shape is restored, and infection of such large wounds seems rare.

A study at the U.S. National Marine Mammal Foundation revealed that dolphins, like humans, develop a natural form of type 2 diabetes which may lead to a better understanding of the disease and new treatments for both humans and dolphins.


Most dolphins have acute eyesight, both in and out of the water, and they can hear frequencies ten times or more above the upper limit of adult human hearing. Though they have a small ear opening on each side of their head, it is believed hearing underwater is also, if not exclusively, done with the lower jaw, which conducts sound to the middle ear via a fat-filled cavity in the lower jaw bone. Hearing is also used for echolocation, which all dolphins have. Dolphin teeth are believed to function as antennae to receive incoming sound and to pinpoint the exact location of an object.


---
| | |
| --- | --- |
| Hind limb buds are apparent on an embryo of a spotted dolphin in the fifth week of development as small bumps (hind limb buds) near the base of the tail. Modern dolphin skeletons have two small, rod-shaped pelvic bones thought to be vestigial hind limbs. In October 2006, an unusual bottlenose dolphin was captured in Japan; it had small fins on each side of its genital slit, which scientists believe to be an unusually pronounced development of these vestigial hind limbs. | |
---
| | |
| --- | --- |
| | Dolphins are often regarded as one of Earth's most intelligent animals. Comparing species' intelligence is complicated by differences in sensory apparatus, response modes, and nature of cognition. The difficulty and expense of experimental work with large aquatic animals has so far prevented some tests and limited sample size in others. Compared to many other species, however, dolphin behavior has been studied extensively, both in captivity and in the wild |
---
| | |
| --- | --- |
| Dolphins are capable of making a broad range of sounds using nasal airsacs located just below the blowhole. Roughly three categories of sounds can be identified: frequency modulated whistles, burst-pulsed sounds and clicks. Dolphins communicate with whistle-like sounds produced by vibrating connective tissue, similar to the way human vocal cords function, and through burst-pulsed sounds, though the nature and extent of that ability is not known. | |
The clicks are directional and are for echolocation, often occurring in a short series called a click train. The click rate increases when approaching an object of interest. Dolphin echolocation clicks are amongst the loudest sounds made by marine animals

---
| | |
| --- | --- |
| | Dolphins are social, living in pods of up to a dozen individuals. In places with a high abundance of food, pods can merge temporarily, forming a superpod; such groupings may exceed 1,000 dolphins. Individual dolphins communicate using a variety of clicks, whistle-like sounds and other vocalizations. Membership in pods is not rigid; interchange is common. Dolphins can, however, establish strong social bonds; they will stay with injured or ill individuals, even helping them to breathe by bringing them to the surface if needed |
---
Dolphins also display culture, something long believed to be unique to humans (and possibly other primate species). In May 2005, a discovery in Australia found Indo-Pacific bottle nose dolphins teaching their young to use tools. They cover their snouts with sponges to protect them while foraging. This knowledge is mostly transferred by mothers to daughters, unlike simian primates, where knowledge is generally passed on to both sexes. Using sponges as mouth protection is a learned behavior.



---

From Wikipedia


---
---
| | |
| --- | --- |
| Share this with friends..... | |
---
---